Growing healthier trees, enriching your community
Staking the tree right the first time is key for long-term tree health. The Australian-made Tree Coach is the all-in-one planting and watering system that allows trees to grow more naturally. GrowFlex technology allows the tree to move with the wind while being strongly supported by flexible stakes, giving the tree the necessary movement it needs to thrive.
Ties

help to guide and support the tree but do not restrict natural growth.

Strong upper watering ring

protects the root ball, and controls more efficient water delivery to the root zone.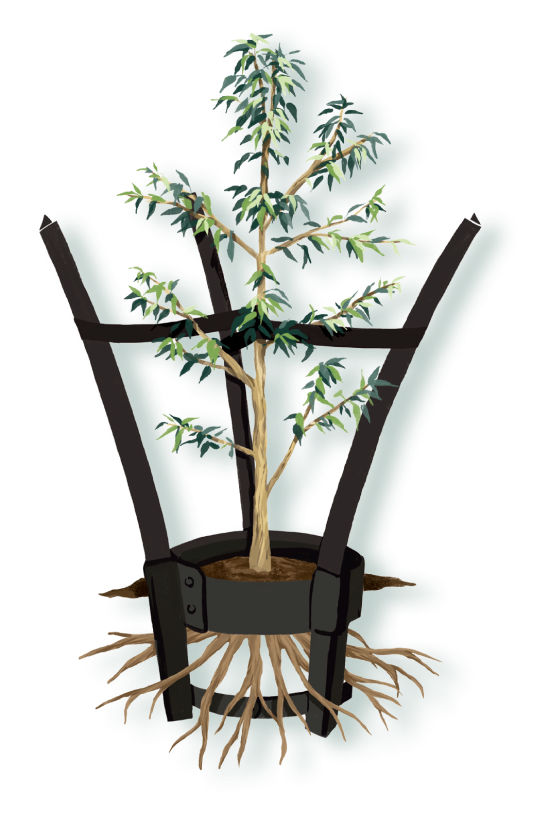 GrowFlex Technology™

is a gym for trees. Its flexible stakes allow the tree to be tested and strengthened by the natural elements

Manufacturing process

of the Tree Coach is sourced and recycled within Australia. This solution is closing the loop from cradle to cradle, as it is derived from fully recovered local recycling streams.

Lower ring

provides rigidity whilst allowing roots to grow naturally.
Nature-led tree development
.
With flexible tree stakes that allow trees to be tested and strengthened by the wind, Growflex Technology encourages better caliper, stem taper and consequential root development. The result is healthier, more durable, mature trees with less root plate failure and stake damage than traditional staking.
The more sustainable, responsible solution
.
Fully manufactured from curbside waste and made in Australia. Tree Coach stakes can be recycled or reused and the upper watering ring can be is also 100% recyclable when removed. Tree Coach incurs less water wastage than traditional staking.
Easier and safer to install
.
Available in two different sizes, Tree Coach is lightweight and safer to transport than traditional tree stakes, and requires no heavy ramming machinery to install. This creates a safer environment for workers and the community.
Design that enhances its surrounds
.
With curved stakes and clean lines, Tree Coach has been designed to aesthetically complement urban developments and community assets.
Here's how planting with Tree Coach works.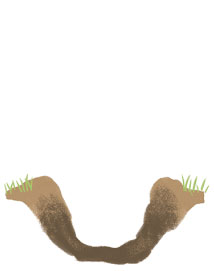 Soil is cultivated and a suitable-sized hole is dug.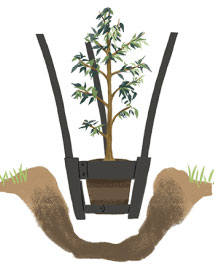 The stakes are inserted into the lower rings, and the Tree Coach is placed in the hole. No heavy ramming machinery is required. The tree is placed in, backfilled and tied to the GrowFlex Technology™ stakes.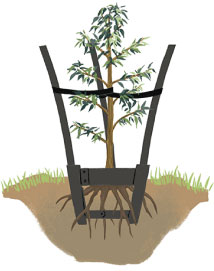 The tree grows while 'coached' by the Tree Coach, growing stronger roots more naturally, with the watering ring controlling more efficient water delivery to the root zone.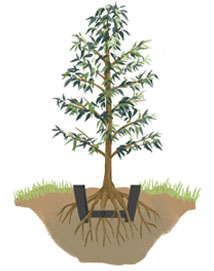 Once the tree is established, the stakes and upper ring are removed.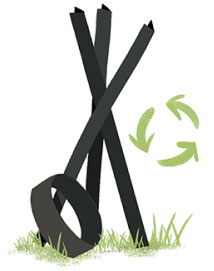 The stakes can be reused and the upper ring can be recycled again, creating a circular cradle-to-cradle, sustainable process.
Watch Tree Coach™ in action
.
Watch our instructional video to see how it works.
Secure your Tree Coach™ trial today
.